Instagram have just launched Instagram Guides; and the potential for how far this feature can go, is unparalleled.
Instagram Guides launched across the world in November, and numerous brands' have started to use the feature for e-commerce purposes. During the pandemic, e-commerce has seen a 129% year-over-year growth, so it seems an interesting time to launch a feature that has specific notions towards product sales. 
So let's get the lowdown.
Originally launched to help with users' wellbeing during the pandemic, this new feature is similar to Instant Experiences on Facebook, but is more comparable to a blog post. Instagram Guides gives brands, actually all Instagram users, an easier way of sharing recommendations, products and more. It's about as long-form as you get on Instagram – which is great if you ever want to tell your story a little more. The flow is clean, with an editorial style to it; users can easily scroll through from headline to main content. A cool feature that I enjoyed is clicking on the imagery, and being taken into the Instagram feed – quite a sad thing to admit really. 
As with all platforms, Instagram is constantly innovating and looking for new ways to bring people to the platform and keep users there. Guide is something that no user has experienced before, bringing the feel of an article without leaving the app – while also being able to shop like you would on a website when you click on products.
How does Instagram Guides work?
Similar to all other features on Instagram, all you have to do is go to the top right of your profile and click on the little plus, or "create" section, and then select guides. From here you get the option to either create recommendations for places, products or posts. Each option has a unique style to suit your need, but one key note for brands is that 'products' can only link out to things on the Instagram shop. Uploading imagery is also relatively simple, with users choosing photos and videos from their own brand profile, or other brands and inspiration accounts.
Currently, Guides has limited output. You can find them on profile tabs, similar to Reels and IGTV, and at the top of the shopping section. There is also the option to share them to your story to increase visibility, for those with a large following, and this is the only place I've seen them posted so far.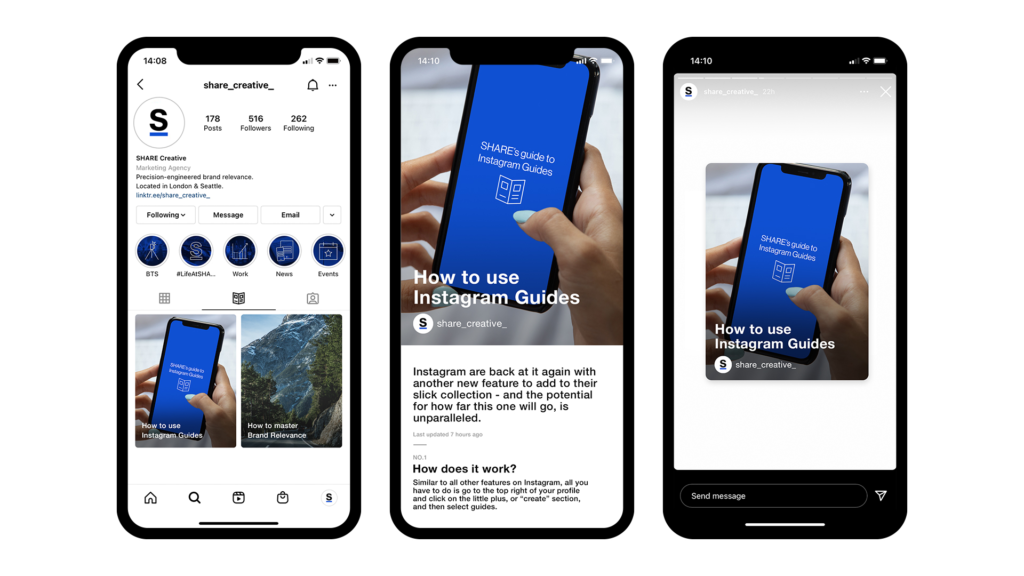 The future and versatility of Guides
As this is only an initial launch, and their output is limited – it could go really far. If I can see it, I'm sure Instagram can too. With just 3 layouts, can we expect to see more tailored layouts in the future? Probably. It also wouldn't be surprising if we saw Guides integrate into the core Instagram feed, or a paid ad variant, with a measurable metric for brands and business profiles.
Without metrics, is there a reason for brands to dive into this new feature? If you create a guide, how do you know that someone has gone on from that to view your product? From my perspective, this is a feature that brands should be monitoring very closely. Also, I know the overarching theme is recommendations, but there's no strict rulebook that says your creation has to be a recommendation. So, let's take a look at how a few industries can thrive with this new feature.
The Fashion Industry
Fashion has the highest potential; if their products are integrated with the Instagram shop. Brands including The North Face have experimented with Guides in the early weeks – showing a holiday gifting guide. But this is just a few examples of what the fashion industry could do. It's not just limited to apparel brands either, fashion magazines like Vogue and GQ also have clear entry points. Grazia gave it a go, but it could almost be like a built-in mini magazine page…
Audiences are always looking for the top fashion trends, best things to buy for each season and new style tips – and normally look to brand websites, like ASOS, or take to the internet and Instagram for inspiration.  Brands should capitalise on this and begin creating guides for new season look-books, lifestyle clothing guides or even promotional guides for events such as Paris Fashion Week. 
Tying into the fashion scene, are influencers. Many influencers film seasonal holidays hauls, or winter item suggestions, and even partner with brands to push their reach even further. Brands could also tap into an influencer's guide through a partnership, by asking them to feature their products in a guide, or create a guide based around the best "Mac Cosmetics" products, for example. I guess they'll need to work out how to #ad in long-form. 
The list goes on for the fashion industry, and if you think about how easy it is to access clothing through apps or websites, they're bringing this accessibility to social. With more people using Instagram shop, and 87% of people being inspired by influencers, Guides could propel this industry even further. 
The Media
Ah, everyone's favourite people. Understandably the media covers a lot – so let's look at a few different areas within media and see how they can take a little dive in. Netflix often post their upcoming shows for the week or month on Twitter, but what if we could have a handy little guide that gave us a bit more detail about each show? I mean we don't really have much else to do at the minute so Every Little Helps – sorry Tesco. 
But if you look to more traditional media forms, like news channels or magazines, there is just as much potential on social for them. Take news outlets for example, they could do a round up of the top 5 stories of the day or most talked about topics for example. Guides are quick and easy to create, so for any news outlet – this is content that can easily roll-out. 
Personal Portfolio
Why not sell yourself, or sell your brand? Users could create a shortened version of their CV as an almost "guide to me" if they wanted to. Chefs could create a guide to their best 20 minute meals. Designers could post their best work. Personal trainers could upload short workout tips made-up from videos on their feed. The opportunities with long-form are endless, presenting real opportunities for you to create or sell your own personal brand.
Tourism
This industry is in one of the best positions to take advantage and really stretch this feature for both brands and travel bloggers. Companies like Airbnb could post their top 10 destinations, 10 hidden gems or getaways for couples. Whereas travel bloggers could do something similar, or post a guide to a particular country they went to and include restaurants, bars and must-see locations
How far can Instagram Guides go?
Instagram Guides is a whole new way to connect with audiences. The key to a successful entry into the feature is value. This is an opportunity to give insight to your audience, and give them that extra something that one post can't offer. This is a brand's chance to tell a story that you couldn't tell before, and if Instagram makes the feature more accessible and creates a space for more creativity, then this feature could be the next big thing for brands, e-commerce and beyond. 
The only outstanding question is, how well will long-form perform in a primarily visual and short-form platform? I guess we'll find out. 
Jack Watkins